Is social media shifting the relationship between the employer and employee?  It is an interesting question and one which hasn't been explored in great detail.  More focus has been on using the platforms as opposed to considering its influence.
Technology has in many ways altered the workplace in terms of working from home, accessing email after hours and so on.  All current businesses must evolve and adapt if they are to survive the massive changes that are occurring.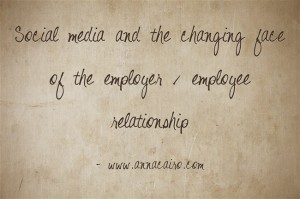 However, it is social media which pushes the boundaries in the employer vs employee relationship.  Employers lack a complete approach to control these technologies as it is impossible to do so.  To a degree it is because of social media's unique features including:
◦       immediacy
◦       audience reach
◦       permanency
These pose challenges as the technology allows for a different kind of engagement and conversation where the employee has a greater ability to engage outside of the employer's influence.
Social media users are transformed from 'passive content consumers', which they were previously, to 'interactive content producers' meaning there is a communication shift occurring.  Individuals now have a greater say in the distribution and flow of information, how they contribute and where they contribute.
What this means to employers is that a traditional one off whinge about the employer on a Friday night at the pub with a few close friends is now shared on social media.  Once this information is shared the original sharer loses track of who sees the information and they quickly lose control of the content meaning that any unintended number of people can see and share the content.
For employers this is tipping the balance ever so slightly towards the employee and can be quite confronting in terms of potential damage to reputation of the employer.  What employees also need to be aware of is that it can actually pose issues for them even if some appear unconcerned and indifferent.
Employers expect loyalty and commitment from employees, however, employees now have a different attitude towards their workplace.  They are more likely to have many employers during their working life and their commitment is prone to be to themselves.
Social media is only one of the many changes that is occurring in the workplace landscape and which may be influencing this employer / employee relationship.
What does this mean moving forward for the employer?
Social media provides the opportunity for employers to partner and engage with their employees to find solutions to social media engagement.  The most successful employers find a way to partner with employees to get the best outcomes for all.
How does your business engage in the social media space? Do you trust your employees to do this?
Thanks for reading!
Feel free to 'tweet' or 'repost' this article or leave your comments….